Hobby Lobby
Hobby Lobby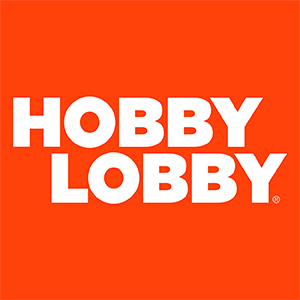 Website:

About Us
Craft, embellish, re-purpose and save money! More than a hobby store, we have wedding rentals, invitation templates, gift ideas, custom framing, scrapbooking and cake decorating supplies and much more! Create, re-imagine and enrich your life with our artist supplies, textiles, jewelry making supplies and floral items. Learn a new skill with one of our classes or transform your home with designer quality home décor and furnishings. Come in to our Angola, IN, location and enjoy! Your imagination is the limit. See the class schedule for our store located at 1801 North Wayne Street: http://www.hobbylobby.com/StoreDetail/579/46703
Hours of Operation:
Monday :
9:00 AM -
8:00 PM
Tuesday :
9:00 AM -
8:00 PM
Wednesday :
9:00 AM -
8:00 PM
Thursday :
9:00 AM -
8:00 PM
Friday :
9:00 AM -
8:00 PM
Saturday :
9:00 AM -
8:00 PM
Sunday :
closed
Categories
Products
art supplies
brushes
cake & cookie decorating supplies
candle & soap making
children's crafts & activity kits
cookie cutters
custom framing & matting
fabrics
frames
gift wrap & gift bags
greeting cards
home decor
jewelry
needlework kits
paint
party favors & decorations
party invitations & supplies
patterns
photo albums
pillow & throws
plants
quilting and sewing supplies & notions
ribbons & bows
scrapbooking
stenciling supplies
vases
wearables
wedding supplies
Keywords
Craft Stores in Angola
Angola Crafting Supplies
Crafting in Angola
Craft Ideas
Craft Projects
DIY Crafts
Creative Crafting
Craft Shop
Quilt Stores in Angola
Angola Quilting Supplies
Quilting in Angola
Quilt Ideas
Quilt Projects
DIY Quilts
Creative Quilting
Quilt Shop
Floral Shops in Angola
Angola Floral Supplies
Floral Ideas
Floral Projects
DIY Florals
Floral Arranging
Floral Arrangements
Hobby Stores in Angola
Angola Hobby Supplies
Hobbies in Angola
Hobby Ideas
Hobby Projects
DIY Hobbys
Creative Hobbys
Hobby Shops
Scrapbook Stores in Angola
Angola Scrapbooking Supplies
Scrapbooking in Angola
Scrapbook Ideas
Scrapbook Projects
DIY Scrapbooks
Creative Scrapbooking
Scrapbook Shop
Fabric Stores in Angola
Angola Fabric Supplies
Fabric Ideas
Fabric Projects
DIY Fabrics
Fabric Creations
Fabric Shops
Home Decor Stores in Angola
Angola Home Decorating Supplies
Home Decorating in Angola
Home Decor Ideas
Home Decor Projects
DIY Home Decor
Creative Home Decorating
Home Decor Shops
Frame Stores in Angola
Angola Picture Framing
Custom Framing in Angola
Picture Frame Ideas
Photo Frame Projects
DIY Picture Frames
Custom Framing
Frame Shop
Party Stores in Angola
Angola Party Supplies
Party Ideas
Party Projects
DIY Parties
Creative Parties
Party Shop
Special Occasion Parties
Party Themes
Seasonal Decoration Stores in Angola
Angola Seasonal Decorating Supplies
Seasonal Decorating in Angola
Seasonal Decoration Ideas
Seasonal Decoration Projects
DIY Seasonal Decorations
Creative Seasonal Decorating
Seasonal Decoration Shops
Websites
order:http://www.hobbylobby.com/find-savings/?utm_source=YPordernow&utm_medium=website&utm_campaign=Yext
Year Established
Payment Options
American Express
Check
Discover
MasterCard
Visa
Specialties
Clean and orderly departments
Creating the perfect environment for your shopping pleasure
Excellent customer service
Pleasant atmosphere for our customers to come and browse our products
Languages
Link to this Page (Permalink): Promote this listing for your business by linking here.
---
Customer Ratings and Reviews
There are no reviews yet!
You can review this company and help others by leaving a comment. If you want to share your thoughts about Hobby Lobby, use the form below and your opinion, advice or comment will appear in this space.
Was this helpful?

Like

Helpful

Dislike

Not So Helpful
Submit a review for Hobby Lobby
---
Helpful Tip for: Home Furnishings Stores
Stores that sell home furnishings are present in Angola. Home furnishing comprise furniture, decor, curtains and sundry other items that populate the interior of the house (as well as the exterior in porches and verandahs). They help set the tone of the house, and are also necessary for their functional use, such as seating, sleeping, eating, cooking, and blocking out sunlight.
---
Recent News from the Green Blog
Governor Cuomo Launches $5 Billion Clean Energy Fund To Grow New York's Clean Energy Economy
Clean Energy Fund will advance solar, wind, energy efficiency and other clean tech industries to spur economic development and reduce harmful emissions (New York, NY) Governor Andrew M. Cuomo today announced the New York State Public Service Commission's approval of a 10-year, $5 billion Clean Energy Fund to accelerate the growth of New York's clean energy economy, address climate change,..
---