Home ::: Oregon ::: Ontario ::: Auto Parts & Supplies
North Verde Auto Salvage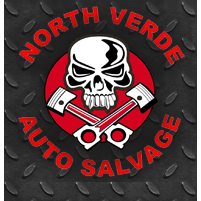 Website:

About Us
North Verde Auto Salvage is your top-source for quality-inspected recycled auto, truck & SUV parts. We have been proudly serving all of Eastern Oregon and Western Idaho since 1982. We possess the largest in-stock inventory for virtually any make, model and year, domestic and foreign. At North Verde Auto Salvage, we really take pride and ownership in all the products that we offer. Every single one of our parts is quality-inspected by our highly-trained personnel. At North Verde Auto Salvage, we are locally owned and operated, which allows us to give you the excellent customer service that you deserve. We really take the time to understand your needs and match you or your business with the right part. We have a keen eye for high-quality used parts. Our experience and knowledge of hard-to-find used parts is tough to beat. Our technicians are highly-trained to thoroughly inspect every part before it leaves our shop. We offer a 90-day guarantee on all the parts that we sell from our inventory. If we broker-in a part for you or your business, we will match the vendor's warranty. At North Verde Auto Salvage, we have a strong commitment to our local environment. Recycling parts is a green enterprise that helps protect Earth's precious non-renewable resources.

We constantly strive to leave a smaller footprint on everything we do. We strongly encourage metal recycling and diligently follow the strictest regulations for the disposal of fluids, Freon gas and scrap metals. Call us, send us an email, or come see us at our shop. We are located on the outskirts of Ontario, off Old Oregon Trail Highway near Washington Avenue. We have customer-service representatives standing by to assist you, a showroom with thousands of in-stock parts and a lot with over 17 acres of vehicles.

SERVICES:
- We are a Bradford Built dealer
- We sell and install
- Order Parts
- Search Parts Online
- Full-service Auto Recycle
- Body-Shops
- Order-By-Phone
- Green Enterprise
- Auto Salvage
- SUV Parts
- Truck Parts
- Car Parts

SERVICES AREA:

-Eastern Oregon and Western Idaho
- North Verde Auto Salvage is expanding. We ship locally and to the entire Continental United States.

Toll Free: 800.772.1648
Phone: 541-889-5451 • Fax: 541-889-2398
2001 N. Verde Drive, Ontario, OR 97914
Open: Monday-Friday: 8:00-5:00 Mountain Standard Time
Hours of Operation:
Monday :
8:00 AM -
5:00 PM
Tuesday :
8:00 AM -
5:00 PM
Wednesday :
8:00 AM -
5:00 PM
Thursday :
8:00 AM -
5:00 PM
Friday :
8:00 AM -
5:00 PM
Saturday :
closed
Sunday :
closed
Categories
Emails
:parts@northverdeautosalvage.com
Payment Options
American Express
Discover
MasterCard
Visa
Check
Cash
Customer Ratings and Reviews
There are no reviews yet!
You can review this company and help others by leaving a comment. If you want to share your thoughts about North Verde Auto Salvage, use the form below and your opinion, advice or comment will appear in this space.
Was this helpful?

Like

Helpful

Dislike

Not So Helpful
Submit a review for North Verde Auto Salvage
Helpful Tip for: Auto Parts & Supplies
---
'Auto Part Supply' companies in Ontario sell a full assortment of automotive parts, and guarantee the best solutions in the market to have the vehicles running smooth with branded supply of auto parts.
Recent News from the Green Blog
---
Corn-Based Biofuel: Not All It's Popped Up To Be?
Nowadays, the buzzword on everyone's lips in the "green" world is "biofuel." It seems that everyone and their uncle is looking for the best alternative to gasoline; something that is effective as a basic fuel source while doing away with the many pollutants that are associated with the discovery, refinement, and use of plain' ol' gas. So, it's not surprising..